Photographic Wizard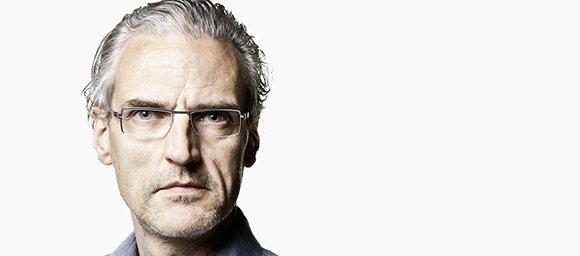 His dedication to each step in the realization from the idea to the final photograph makes Julien Vonier into one possessed. And that's what makes him such an extraordinary photographer.
For his offbeat arty family it was clear that judging by his early great drawing talent Julien Vonier would one day become a graphic artist. But no! Julien wanted something more concrete! Ironically, it was while helping out at a photographer's studio that in the darkness of the darkroom he attained Enlightenment. Seeing fuzzy contours on white paper begin to take shape and sharpen into a finished picture thoroughly captivated him. From that moment the spell of photography has never lost its hold over him.
Barely 16 years old, Julien Vonier started his apprenticeship in what was then the largest photo studio in Europe. First it was E. T. Werlen who instructed him in the art of exterior photography. The work was carefree and life was exciting. After a year Julien came under the tutelage of H. P. Mühlemann, one of the most sought-after fashion photographers of his time. During this period with this visionary Julien learnt not only how to handle huge stage sets, models and light, but above all to fight for honest photography. That put an end to his late  nights which now only took place in the studio. Following this important period Julien became the assistant to Peter Forster the legendary car photographer. After completing his training Julien held posts in several major advertising agencies until 1988 when he took the step of setting up his own 'Vonier Fotografie'.
Twenty years ago when digital photography had not yet come onto the stage, Julien Vonier was already exploring new directions with special effects which at that time could only be achieved by combining video with photography.
It was Julien Vonier who created the concept of "videografie". The technical acquisitions and the associated financial outgoings were enormous, but not nearly as enormous as Julien's passion for finding new ways. The reflections, fades and colour alienations opened up an additional field for the photographer and more than compensated for the huge outlay. Today such effects can be achieved by almost any user of image-editing software programs.
Julien Vonier has never tied himself down to any one format, style or specialization. He perfects his 35mm techniques with the same dedication as he does for pictures in medium or 8x10" format. He has photographed fashion, people, food and animals as well as landscapes and cars. The collaboration with the client and the mutual animated discussions about the picture are a central and deciding incentive to his photography. This joy of experimentation and Julien Vonier's creative versatility based on his experience and skill is what is so esteemed by his clients.
No matter how occupied Julien Vonier may be with assignments, he seeks and takes the time to develop new processes, and to experiment with new transformations. For Julien Vonier nothing but the highest quality will suffice. Nothing happens by chance. Images that appear to be casual snapshots have in fact been very carefully staged down to the tiniest detail; each source of light, camera and subject has been perfectly matched. The four walls of his studio surround the kingdom of a fanatic. Julien Vonier always has the most varying projects on the go at the same time - forever forging ahead, searching, experimenting, moving from camera to screen to image-editing console. The variety of his expertise is reflected in the extensive spectrum of his artistic oeuvre which ranges from gigantic landscapes to erotic sequences from the demi-monde down to the most intense animal close-ups.
Julien Vonier
1957
Born in Zurich, Switzerland
1961
The family moves to Northern Germany
1963
Primary schooling in Itzehoe near Hamburg
1964
Return to Switzerland
1973
Photographer apprenticeship at Maur Photo Studio under E.T. Werlen and H.P. Mühlemann
1976
Assistant to Peter Forster
1977
Graduated in Photography Class at the Zurich Kunstgewerbeschule
1978
Photographer at the Advertising Agency Gisler & Gisler, Zurich
.
Awarded Swiss Art Directors Prize for pictures for the Swiss Cheese Union
.
Poster accepted into the permanent collection of MOMA Museum of Modern Art New York
1983
Photographer at the Advertising Agency Marsden Hartmann NCK/FCB/Leo Burnett
.
Awarded Swiss Art Directors Prize for pictures for Migros Supermarket chain
.
ADC Award for TV spot featuring animated photography for VISA Credit Cards
1988
Established Vonier Fotografie
.
Awarded various prizes by ADC Switzerland and New York
.
Awards from ADC/Eurobest
.
Assorted posters accepted into the permanent collection of the Kunstgewerbeschule Zurich
.
Assorted posters accepted into the permanent collection of the Swiss Federal Institute of Culture
.
Inclusion in Award "200 best AD Photographers Worldwide". -  Lürzer's Archive 2004/05
.
EPICA Award 2006
.
Inclusion in Award "200 best AD Photographers Worldwide". Lürzer's Archive 2006/07